How much would you pay to lick Angus Young? Australians now have
the chance to plunk down 45 cents to do so, sort of. The guitarist and his
AC/DC bandmates were reportedly among the artists honored in a new series of
Australian stamps designed to honor Aussie rock greats of the 50s, 60s, and
70s.
The "Sydney Morning Herald" reports that Young and company do not
actually appear on their stamp, but their 1975 classic "It's A Long Way To
The Top" provided the inspiration for one of the new designs (according to
the "Herald," Australian rocker Johnny O'Keefe is the only artist to
actually appear on the new stamps as the postal service rarely honors living
people outside of the royal family from appearing on stamps).
Combien payeriez-vous pour lécher Angus Young ?
Les Australiens ont maintenant cette chance, car ils peuvent dorénavant
lécher le timbre de 45 cents ou se trouvent celui-ci.
Le guitariste et son groupe se trouvent parmi les artistes honorés dans une
nouvelle série de timbres australiens conçus pour commémorer les groupes de
Rock Australiens des années 50, les années 60 et les années 70.


"Sydney Morning Herald" annonce que Young and Co. n'apparaissent pas
en réalité sur leur timbre, mais leur classique de 1975 "It's A Long Way To
The Top" a fourni l'inspiration pour une des nouvelles conceptions (selon le
Herald, le rocker australien Johnny O'Keefe est le seul artiste en réalité à
apparaître sur les nouveaux timbres car le service postal Australien honore
rarement les personnes vivantes à l'exception de la famille royale .
---
My fake stamps of AC/DC :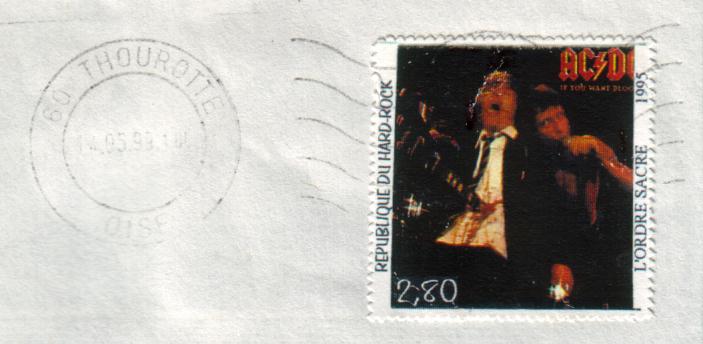 ---
Click here to buy these stamps fron Bénin
---
---
---
VISIT MY WEBPAGE :